*** Cold / Hot Weather Alert ***
At TERRA NOVA® we understand that many of our customers may experience COLD or HOT weather that could negatively impact the health of plants in transit.
We ask for your assistance in contacting us 3-5 days in advance of your scheduled shipping date if you feel you may have extreme weather conditions. We would be happy to adjust your ship date accordingly to avoid potential losses upon delivery.
Please call your sales rep. at: 800-215-9450
We do our best to ship complete orders at all times, however, due to the nature of the business, that is not always possible. It is our policy to phone or fax our customers prior to shipping, to assure you are ready and expecting you shipment. At this time, you may also add to your order to fill your box, which minimizes your shipping costs on a per plant basis. We welcome your additions immediately prior to shipment to get that special plant that just showed up on our current availability as well.
Please be aware that if we do not hear back from you, your order will ship, so let us know if you need to delay a shipment.
We ship F.O.B. Canby, OR. Should your order be damaged in transit, TERRA NOVA® Nurseries is not to be held responsible. All plants requiring special care will be marked with a "GROWER ALERT" label, corresponding to instructions enclosed in the box.
Boxed Orders:

Method: FedEx / UPS
Summer boxing charge: $8.00 per box
Winter boxing charge: $11.50 per box
Pallet Orders:

Pallets: FedEx Freight / UPS Freight / Temperature controlled freight services
Pallet shipper: $3.00 per flat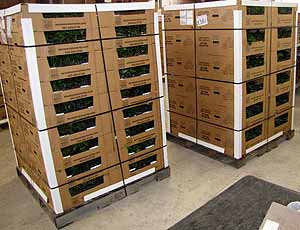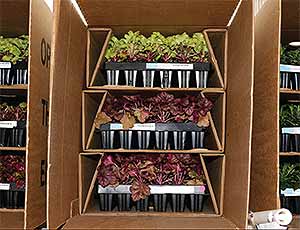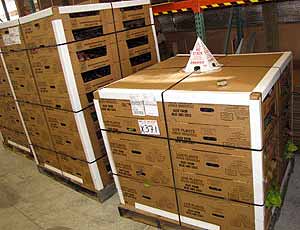 A customs broker must be selected and the contact information provided at the time an order is placed. All orders must consist of full flats of plant material. We ship F.O.B. Canby, OR. Should your order be damaged in transit or held at a border, TERRA NOVA® Nurseries is not to be held responsible. Additional fees incurred in shipping:
Shipping methods: FedEx International, UPS, DHL & Forwarding Agent
Summer boxing charge: $8.00 per box
Winter boxing charge: $11.50 per box
Pallet shipper: $3.00 per flat
Oregon Phytosanitary Certificate fee: $15.00
Chemical application fee (if required): $45.00
All Canada GST, Customs Duty and other Canadian Government agency fees are the responsibility of the customer.
If an import permit is required, it is the responsibility of the customer to obtain one and provide a copy before an order ships.
We no longer ship outside the United States and Canada. As an alternative to ordering direct from TERRA NOVA® Nurseries, please visit our "International Growers" section for a broker or distributor in a country near you.
Hours are Wednesday – Friday from 7:30am – 3:00pm, and we are closed Saturdays and Sundays. Any changes to pick-up date or cancellations must be made at least 5 days prior to the scheduled pick-up. All Will Call orders not picked up within the designated time frame will ship at buyers' expense.
TERRA NOVA® Nurseries is committed to shipping the very best quality plants by the most efficient methods available. Our goal is to meet this objective with every order. All claims must be phoned in within 72 hours of receipt of shipment followed by a written notification of concerns and specific details for our records. Providing photographs with your request for a credit will help speed the process and may ultimately be necessary to finalize the claim.
We must receive notification within 24 hours including pictures of all damaged packaging and contents. TERRA NOVA® must process the claim for any shipment shipped on our account number. We cannot honor any carrier claim in which we do not receive all the information and photographs required by the carriers.
If you are receiving plants between September and April you may receive dormant plant material. These flats will be clearly marked with "GROWER ALERT" tags with special instructions. More information about the care and handling of dormant material can be found by calling our Sales Department at 800-215-9450.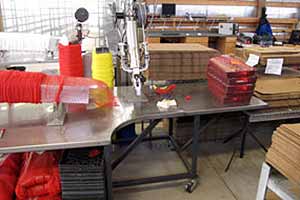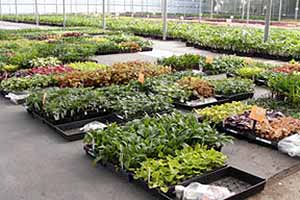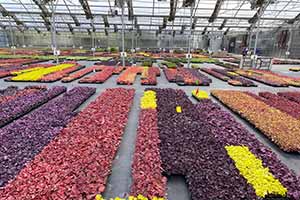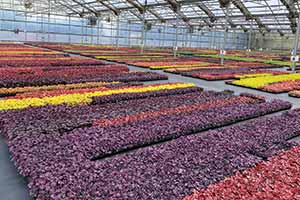 Doing Our Small Part for a Better Planet
In an ongoing effort to reduce waste and plastic consumption along with improving the environment and the planet, we are moving away from our large plastic labels in every tray during the winter months. Each tray will have either a "blue" or "yellow" adhesive label on the end of the flat identifying it as coming from a cold or warm greenhouse.
Trays with "blue" labels:

The young plants you just received with a blue label on the tray will tolerate less cold than established plants.
Plants received late fall through winter in dormant state should be maintained in frost free environment between 35°-45° F
Plant should be kept moist but never wet
Fertilizer should be withheld until new growth begins to appear as temperatures warm.
Trays with "yellow" labels:

Trays marked with a yellow label are coming from a warm greenhouse and should be maintained at temperatures above 55° F and gradually cooled over approximately three weeks to the 35°-45° F range (when appropriate).
It is important that young plants coming from a warm greenhouse be kept growing, and not allow to go to dormant due to cold temperatures.