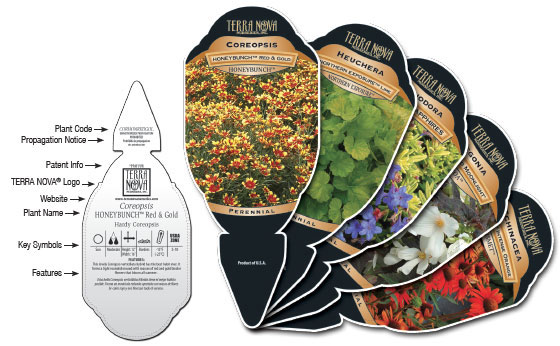 Tags are required for all patented plant material. They can be purchased for $0.10 each and are a great value.
The right picture is worth 1000 words!
Your silent salesman
Loaded with cultural information
Create a classy look with our premium tags
Fade resistant
Use TERRA NOVA® tags for national brand recognition
Tag/pot lock system
Each tag has English and Spanish descriptions
Join our tag exempt program: If you currently have your own tag program please notify us so we can make you tag exempt. All tags must have the appropriate name per variety, which includes the patent or patent pending information.
Create Your Own TERRA NOVA® Labels
Variety details for labels including: descriptions, patent information, exposure requirements and more can be downloaded here – Excel (.xls) format.
Tags are produced in Adobe Illustrator (.ai) format.