Due to the increased lead times in the supply chain of tissue culture plant material, starting July 1st 2022 Begonias and Coleus will require a 2 flat minimum per variety per shipment of 72 cell material and a 6 month pre-booking prior to shipment.
Our Liner Availability is updated once per day. It shows 52 weeks of product based on crop batches throughout the year.



Our URC Availability is updated every 2 hours. It shows 52 weeks of product based on crop batches throughout the year.



ORDERS: 800-215-9450
Plants may be on limited availability depending on the variety. Not all plants are located in the 2022/2023 catalog.

Cell flats consist of 72 plugs/tray. (3) three trays can fit into our standard shipping boxes. Although filling a box is optional, we recommend doing so to possibly reduce shipping charges.

Our

 minimum order is 6 trays.
Heuchera / Heucherella Early Order Discount Program
In an effort to bring both Heuchera and Heucherella to the mass market place, we had to find a method of taking these varieties from the collector level and making them available to all. We accomplished this by offering a lower input cost for large volume and pre-planned ordering. This makes it easier for our laboratories around the world to better plan for mass production in larger numbers. Lower input costs also make the plants more appealing to the landscape industry allowing them to be used for mass plantings year around.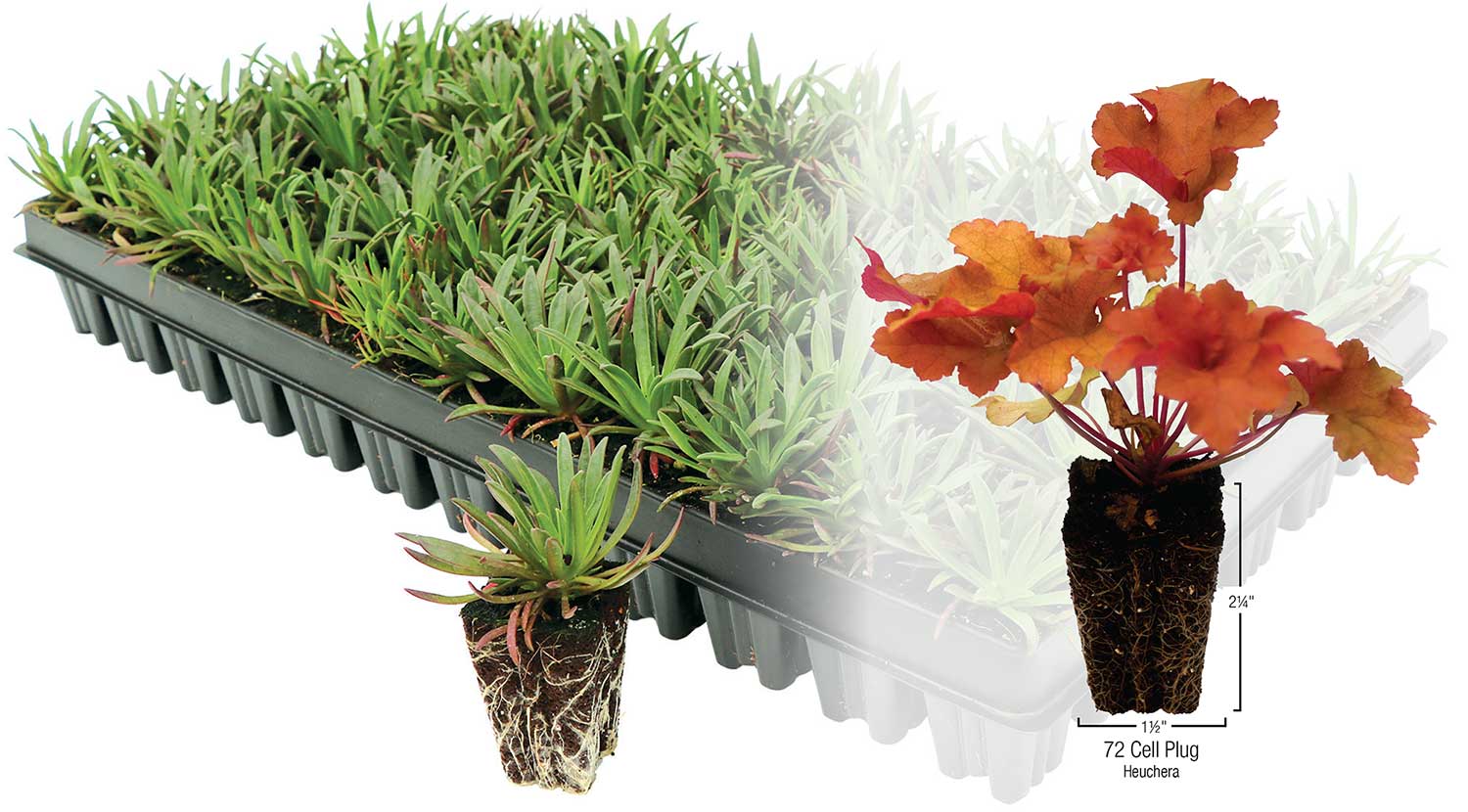 Unrooted Cutting Program Details

We have partnered with Danziger to produce cuttings from the TERRA NOVA® private stock. They offer the highest quality URCs sourced from their modern elite mother stock facility in Guatemala. Their entire line of unrooted cuttings benefit from the wonderful, sunny, temperate climate. This environment allows for economical, year-round production.
We feel this program has tremendous potential, and will play a major role in the direction of our breeding efforts. We'll continue to add plants to the current offering, and look forward to this program growing along with your business and ours.
Handling
The ideal method of handling cuttings on arrival and prior to sticking is as follows:
If you cannot stick immediately:
Remove bags of cuttings from shipping boxes.
Remove cuttings from bags and place in flats.
Place flats of cuttings in a cooler at 50-55° F.
Provide humidification to at least 98% relative humidity. If 98% humidification cannot be achieved, do not remove cuttings from bag.
Provide some light (up to 50 foot candles) in the cooler, if possible.
Plant within 24 hours.
Tags
TERRA NOVA® provides tags with all orders for each plant sold; our tags contain photos, the proper genus, cultivar name, complete proprietary rights of the plant for all regions of potential sales (in the USA either "U.S. PPAF" or U.S. Plant Patent #. In Canada it is listed as COPF and Europe EU# or PVR).
For our customers' we offer a tag exemption program, so that they can create their own tags. To qualify for this program, we require the following information on the tags to be submitted:
Your tags must have the correct plant name, PPAF or PP#, EU# or PVR.
Recommended, but not required, the words "plant propagation prohibited".
We can provide you with updated plant patent lists on a request or put you on our emailing list. Updated tag photos are available free on our website.
For further information, please contact our Sales department.