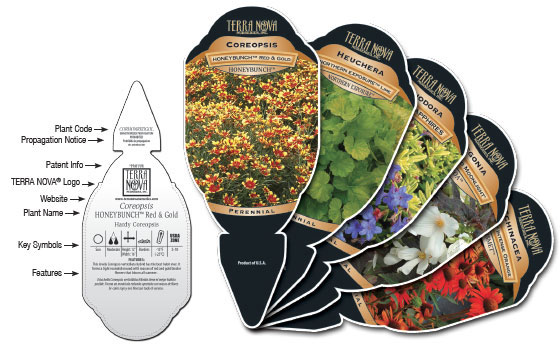 Tags are required for all patented plant material. They can be purchased for $0.09 each and are a great value.
The right picture is worth 1000 words!
Your silent salesman
Loaded with cultural information
Create a classy look with our premium tags
Fade resistant
Use TERRA NOVA® tags for national brand recognition
Tag/pot lock system
Each tag has English and Spanish descriptions
Join our tag exempt program: If you currently have your own tag program & can provide TERRA NOVA® with a sample of your tag per variety that includes the patent or patent pending information, a TERRA NOVA® tag will not be required.
Create Your Own TERRA NOVA® Labels
Variety details for labels including: descriptions, patent information, exposure requirements and more can be downloaded here – Excel (.xls) format.
Tags are produced in Adobe Illustrator (.ai) format.